Senior Dating Tips: How To Find Love Again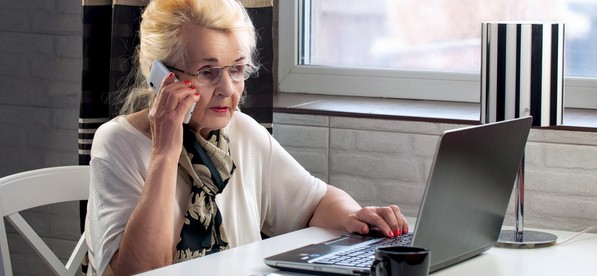 © sanmartial/Dollar Photo Club
There are many challenges and taboos that are exclusively related to older adults and dating. Some of them might not sound easy to overcome, but if you need to choose between a new love in your life and living alone, I'm sure you would choose to overcome those taboos as soon as possible.
Back in the day, you would probably meet your soul mate in college, in a bar, or through friends and family. Today, people are mostly getting together via online dating, especially people over 50. If you're a senior looking for love, an ideal option is, in fact, online dating. All you need to do is follow these tips, and you will be on your way to finding the right person to spend the rest of your life with:
Make sure you're ready to date
Be honest with yourself: if you don't feel like you're ready to date, you are most probably not in a position to establish a healthy relationship. If you still feel hurt or angry because of the failure of your past relationship, you should wait a bit and let those feelings pass. You need to be open for a new adventure and you need to feel positive about yourself and your life in general. Then, and only then, will you be ready for a new relationship.
Do some research
There are tons of online dating sites out there, and not all of them would fit you. The ideal path you should take would be joining and online dating site for seniors. This way, you won't have to go through tons of profiles of people you wouldn't be interested in.
Involve your friends
Ask your friends to help you when you're choosing photos to post on a dating site. Your profile should tell your potential dates a little more about who you are, and your photos are a very important part of it. Sometimes we might think a picture is great, but other people might find it unflattering. Trust your friend's opinion. We don't see ourselves as others see us. Ask them to take a look at your profile and everything on it, and give you an honest opinion. Maybe you've talked too much about your kids, and too little about yourself, or maybe your profile makes you come off as arrogant or too shy. An honest friend will help you present yourself the best way you can.
Forget about clichés in your profile
You will find out why you should avoid clichés once you take a look at other people's profiles. There are simply too many of them out there who "enjoy long walks on the beach", "love going to the heater and fine restaurants", etc. Don't make your profile look just like everyone else's. Whatever you write about yourself, make sure it's authentic and make sure it expresses who you are and what you really enjoy in life. Express your goals, lifestyle choices and values.
Never limit your options
You might want to list some deal breakers, so you would avoid getting contacted from people you would absolutely have no interest in dating. Be careful with this one, because creating long lists of things you don't like might limit your options, and it might make you look intimidating. I'm sure this is not what you want, so you should try to be more down to earth, when talking about dos and don'ts.
Always be safe
When you find a date you think you might be interested in, be cautious, no matter how much you like this person. At least during initial contact, talk to the person on your mobile phone instead of your home phone. You home phone can be linked to your address. When you go out on a first date, always meet in a public place – a coffee shop would be ideal. Until you are comfortable around this person and until you positively know he is who he says he is, don't get into his car and let him drive you anywhere. Don't let them walk to your car, either. Even though a majority of people are really honest and they mean well, you shouldn't take any risks.
Take your time
The biggest advantage of online dating – meeting people you never would have met otherwise – is also the biggest disadvantage. Since the people you potentially tend to meet are coming from outside your network of friends, you won't have anyone to talk to about them. You shouldn't trust everything your date tells you, no matter how trustworthy they might seem. Take your time and try to get to know the person better, before you trust them with your heart.
Don't give up quickly
Some people are lucky enough to meet a perfect someone quickly, but for other people, it may take a while to meet Mr. or Ms. Right. You might have to meet many people before you find the one you are looking for, but you shouldn't look at this as a downside. You will make new friends, meet new people, expand your social life, and even enjoy having coffee with them, regardless of the fact you might not want them for a partner. Stick to it and keep trying and you will see that you will find your special someone eventually.
Comments